HRDAG Welcomes New Staff, Interns and Fellow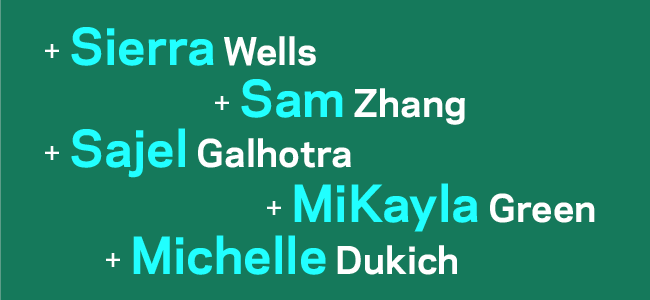 HRDAG is delighted to announce five additions to our team: one new staff member, three summer interns, and one fellow. "This is one way we're growing the field at the intersection of human rights and data science," says Executive Director Megan Price.
Michelle Dukich has come on board as a Data Processing and Record Linkage Expert. She has worked for HRDAG as a consultant for more than 20 years, working on projects in Colombia, El Salvador, Guatemala, Peru, Sri Lanka, and more. With expertise in record linkage, she is responsible for data cleaning, canonicalization, and matching, as well as more duties.
"I am excited to be joining HRDAG as a staff member after being a consultant for many years and look forward to contributing more to the work of human rights and speaking truth to power," says Michelle. "I enjoy working with data and being a part of a dedicated team of data scientists who have been working tirelessly for decades to help bring justice to victims of human rights atrocities around the world."
Three new Data Science & Human Rights Interns have joined for the summer, too.
Sajel Galhotra, who just graduated from Stanford University with a bachelor of science in Mathematical and Computational Science, will be contributing to projects on police violence in Puerto Rico and civilian casualities in Syria. MiKayla Green, who just graduated from Princeton University with a bachelor of arts in African American Studies and a certificate in Statistics in Machine Learning, will be pushing forward projects in Chicago, Puerto Rico and Syria. And Sierra Wells, a rising senior at Stanford University working toward a bachelor of arts in International Relations with a minor in Data Science, is collaborating on a variety of projects, including the cleaning and analyzing of data on the use of force by police in Puerto Rico, in partnership with Kilómetro Cero.
"I am very excited to work with a team so dedicated to high-impact, community-engaged human rights work," says Sajel.
"In developing my professional skills, I've already found that every day I learn something new about the terminal, VIM, github or the coding languages we work in, so every day I look forward to growing my data science skill set," says MiKayla.
"I admire HRDAG's incorporation of human rights data gathered locally by civil society organizations and am excited to learn more about how these and other data sets can be used to estimate stories left untold or undocumented in existing records," says Sierra.
HRDAG is also pleased to announce an upcoming Data Science & Human Rights Fellow for the fall.
Sam Zhang, a PhD candidate and NSF Graduate Research Fellow in the Department of Applied Mathematics at the University of Colorado at Boulder, will be working with Patrick Ball on implementations of the core estimation algorithms, and pitching in on a variety of other projects. He has prior experience on data science projects with the Southern Poverty Law Center, ProPublica, Enroll America, and other organizations.
"I've admired HRDAG for as long as I've been a part of the 'data for good' community—they have served as a beacon for me in terms of the possibilities of applying data science toward justice," says Sam. "I can't express how happy I am to join the team for a few months!"
"It's thrilling to watch our new colleagues hit the ground running with contributions toward greater accountability and justice in the world," says Megan. "After more than two years of mostly virtual collaborations, it's really energizing to have our interns and fellow spend some time in the office with us."
---