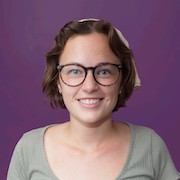 Sierra joined HRDAG as a Data Science & Human Rights Intern, for a term lasting from June through August, 2022.
In her role at HRDAG, Sierra collaborated on a variety of projects, including the cleaning and analyzing of data on the use of force by police in Puerto Rico, in partnership with Kilómetro Cero.
She was introduced to programming and data science skills through working with Data Cívica, one of HRDAG's partner organizations in Mexico City. She spent her gap year (2020-2021) at Data Cívica, focusing mainly on projects related to violence against women and gender economic disparities in Mexico. In particular, she's interested in studying violence, migration, and gender in Latin America, and is looking forward to learning more about how data science can be applied to protect the human rights of those affected by these phenomena.
Sierra is working towards a B.A. in International Relations at Stanford University, with a minor in Data Science.
Sierra is on LinkedIn. Sierra's 2022 reflection: HRDAG Retreat 2022