HRDAG Adds Three New Board Members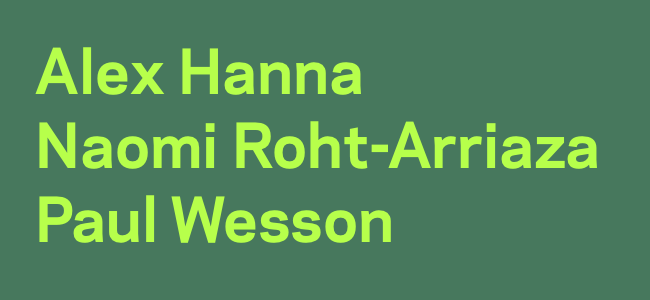 HRDAG is delighted to announce three new additions to our Advisory Board: Alex Hanna, Naomi Roht-Arriaza, and Paul Wesson.
Alex Hanna is a sociologist who brings to HRDAG a background in computer science and a focus on understanding how we can use quantitative methods, computation, and new technologies toward the creation of a more just society—even if it means not building new technology. She has also been an advocate for labor and transgender rights.
"I have admired HRDAG's work from afar for years, from their novel statistical techniques for estimated deaths from state violence and genocide, to their more recent work on police killings in the United States," says Alex. "HRDAG is a shining example of how we can bring sophisticated quantitative methodology to bear on some of our most pressing social and political issues."
Naomi Roht-Arriaza brings expertise and knowledge of international and comparative law, human rights law, and international criminal law to the HRDAG Advisory Board. She has deep experience in a number of Latin American countries and has served on the boards of many NGOs.
"I've been so impressed with the way HRDAG can use complicated statistical modeling to make real changes on behalf of victims of human rights violations," says Naomi. "I've seen HRDAG in action in front of judges, and I wanted to support the mission any way I can. I'm thrilled to be able to bring my legal skills and knowledge of Latin America to the Advisory Board."
Paul Wesson brings expertise in population size estimation, and he often uses Capture-Recapture/Multiple Systems Estimation to estimate hidden population size. Paul does not always use the same statistical models as the HRDAG team, which presents an opportunity for engaging in conversations about how best to use imperfect data to most closely approximate the truth.
"Ever since my first meeting with Patrick [Ball], I have been inspired by HRDAG's rigorous application of statistical methods to quantify hidden truths, seek justice, and hold the powerful to account," says Paul. "I am thrilled and honored to serve on HRDAG's Board as the organization continues in this mission."
"I am so excited to welcome these new voices onto our advisory board," says Executive Director Megan Price. "One of the really fun parts of my job is getting to bring together experts to think hard about HRDAG's mission and work. I'm really looking forward to working with this newly expanded advisory board."
The addition of Alex, Naomi, and Paul has expanded our Advisory Board. They'll join Chair Julie Broome and members Margot Gerritsen and William Isaac.
Having just launched our 30th anniversary year, we are heartened by the growth of our Advisory Board and by the expertise, compassion, and enthusiasm they bring. As always, we're indebted to our Advisory Board and our funders for their support and vision.
Image: David Peters, 2022.
---