HRDAG Retreat 2018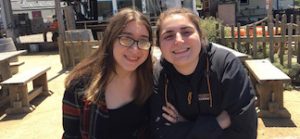 This blogpost was co-authored by Erin Lipman and Maria Gargiulo.
Deep in Sonoma County, California, a large house, two tents, a yurt, several lizards, and a friendly orange cat were waiting to welcome our group—15 nerds with varying areas of expertise and experience, all unified in the belief that quantitative analysis has the power to combat injustices worldwide. All around us, conversation segues effortlessly from technical to philosophical, to humorous, to nostalgic. As new interns, we could not have imagined a better introduction to the culture and energy of HRDAG.   
Retreat officially begins with a check-in meeting led by Megan; the excitement is palpable. The meeting starts as each of us shares how we're feeling upon arrival and by reflecting on a piece of HRDAG's work that we find motivating or inspiring. We, Erin and Maria, don't yet know what to expect, but we already feel that the space we are being welcomed into is truly special. What follows is an elaborate criss-crossing of collaborations as the group establishes who needs to talk to whom and about what over the next four days. This is a result of having collaborators across the country and across the globe—retreat is a time to embrace the productivity that comes with being in the same room and away from other distractions.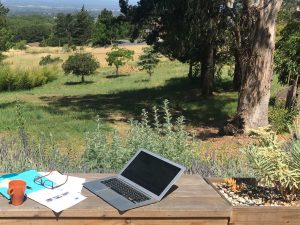 Over the next four days, I, Maria, spent the majority of my working hours hacking away at the principled data processing piece of my summer project, an update to prior work done in Guatemala, as well as internalizing HRDAG workflow best practices, and exploring little hacks that came up in discussions with others, usually in the company of Patrick and his sage-like coding wisdom. Having spent the week prior to retreat catching up on reading and computer setup, I was eager to dive deeply into the code. My favorite part of retreat was pulling up a chair to listen to Daniel, Kristian, James, Patrick, and Shira discuss, for hours, capture heterogeneity in multiple systems estimation, data stratification, and the admissibility of estimators. Although I understood only a fraction of the ideas covered in this discussion, I was inspired by my peers' ability to provide very practical examples of highly theoretical concepts. It was also very exciting to work on a small simulation the next morning with Patrick to experimentally test one of the hypotheses that resulted from the discussion.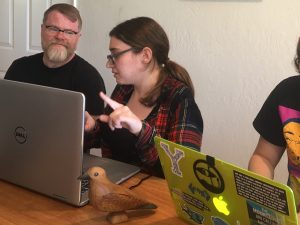 Having arrived at HRDAG only two days earlier, I, Erin, was eager to jump into a dataset relating to potential bias in criminal charges, a part of HRDAG's more general work on criminal justice. On top of that I spent some time familiarizing myself with literature on auditing Black Box algorithms (i.e., algorithms where we have access to the inputs and outputs of a decision making algorithm, but not the decision making process itself). I benefited immensely from the opportunity to engage in conversations about the different ways in which
 the concept of fairness is represented in mathematical terms, as well as the role of human rights data scientists in a world where algorithms are gaining footholds in many aspects of the criminal justice system. These discussions culminated in a conceptual group discussion (in the yurt, of course) on the ways in which engaging in auditing and improving fairness of algorithms used in the criminal justice process fits into the larger picture of criminal justice reform. One of the most important takeaways for me was an awareness that conversations about fairness need to be happening across disciplinary boundaries; bringing in experts from a variety of fields, from statistics to law to philosophy to social science, and beyond, in order to accumulate knowledge that no single discipline can bring alone.
Four days later, we find ourselves sitting in a circle similar to the one that we opened retreat with. We celebrate the accomplishments of the weekend and map out future plans. As newcomers to HRDAG, retreat was an invaluable learning experience and gave us the opportunity to get some serious work done on our projects. We feel gratified by the opportunity to learn from those around us what it means to be a human rights statistician, energized for our work this summer, and excited to see what the future holds!
---