Reflections: It Began In Bogotá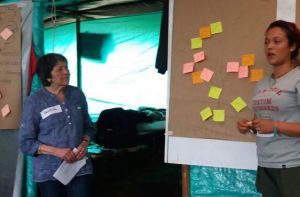 It was July of 2006, I'd spent five years working at a local human rights NGO in Bogotá, and I had reached retirement age. But then a whole new world opened up for me to discover. Tamy Guberek, then HRDAG Latin America coordinator, whom I had met at the NGO, approached me about becoming part of the HRDAG Colombia team as a research/administrative assistant. Over a cup of suitably Colombian coffee, the deal was quickly "signed." My responsibilities ranged from fundraising to translations, from support in data gathering for estimates on homicides and disappearances in various regions of Colombia to editorial support to different Benetech-HRDAG publications. I have always had an uneasy relationship with numbers (I'm more of a "words person"), but with some effort I became acquainted with statistical logic, vocabulary and programs. In general, I must say that my association with HRDAG has been so satisfying because I have learned so much from my colleagues.
The Bogotá team was made up of Tamy, Daniel Guzmán and me, and I instantly felt utterly comfortable. Ours was one of the most informal, warm, friendly and hard-working teams I've ever been part of. We worked at Tamy and Daniel's apartment. No office atmosphere or bureaucratic confinement for us. Cuzco, Tamy's and Daniel's gorgeous chocolate Labrador retriever, soon joined the team. He was close by during most of our working sessions and meetings. He may have contributed to some of our most interesting ideas as we walked him in a nearby park. Food was also part of the work routine (although I noticed that the fare got better whenever Patrick was in town. Hmmm…).
But then, as young people often do, Tamy and Daniel conceived the foolish idea of going off to do doctorates and such… and the HRDAG-Bogotá team thus became dismembered and my own participation in HRDAG became sadly sporadic. But for the past two years I've been actively involved in another important HRDAG project: together with Megan Price and Carolina López, I participated in writing the guidebook on the Guatemala Historic Police Archive, which I am now translating into English. And I still have an HRDAG sticker on my computer (a MacBook, of course).
---