Reflections: Growing and Learning in Guatemala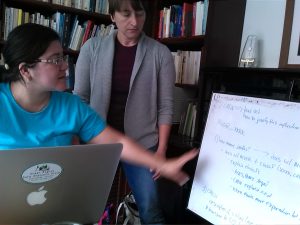 As a woman, mother and sociologist who is curious about the patterns of our political past in Guatemala, I feel privileged to know and work with the HRDAG team. Collaborating and learning from people like Patrick, Megan, Suzanne, Beatriz and Tamy has been an invaluable gift. I have discovered many things, both human and academic. For example, I've learned new ways of seeing what seemed everyday and simple, to discover that not only do the social sciences and statistics work hand in hand, but that they are critical for understanding Guatemala's reality.
Twenty years ago, on 29 December, 1996, Guatemala made history by signing the Guatemala Peace Accord, a landmark treaty that ended our 36-year civil war. As a nation, we've benefitted from working with HRDAG and being "counted" in connection with the ongoing project at the Historic Archive of the National Police (AHPN).We recently finished a 10-year project that culminated in the publication of "Una mirada al AHPN a partir de un studio de cuantitativo."
I hope the next 25 years for HRDAG holds more discovery of new methods, new strategies and new challenges so that they can continue to learn from the past and present, and create a better future.
---