HRDAG's Year in Review: 2022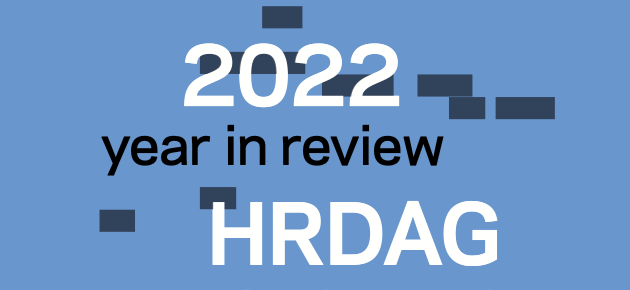 This past year at HRDAG has been about continuing efforts to uncover the truth.
As I wrote in the review, we use statistics to help our partners—truth commissions, grassroots organizations, and the United Nations—to learn more about and quantify what has happened and the patterns of abuse that have occurred. Only after a community understands this can they begin the process of reconciliation and reform. Then justice and accountability become possible.
Our 2022 year in review highlights our collaboration with the truth commission in Colombia, our contribution to the United Nations High Commissioner for Human Rights's report on civilian deaths in Syria, and our partnership with several organizations to derive usable data from windfalls of documents to shed light on police misconduct in Chicago, Louisiana, San Francisco, and Puerto Rico. The report is available as a 4-page PDF.
As always, we're so grateful to our funders and our advisory board for supporting us, and we're honored to do this meaningful work. I hope you enjoy the review! (Reviews from 2018, 2019, 2020, and 2021 are available online, too.)
Image: David Peters, 2023.
---