Welcoming Our 2019 Visiting Analyst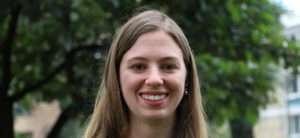 We're pleased to announce that Valentina Rozo Ángel is joining our team as our new visiting analyst this fall. She began last week, and we are excited about working with her over the next several months.
While at HRDAG, she'll continue work exploring the killing of social leaders in Colombia. In 2018 she co-authored with Patrick Ball and César Rodríguez a report about social leaders murdered in Colombia between 2016 and 2017.
Valentina is a researcher at the Center for the Study of Law, Justice and Society—Dejusticia—in Bogotá, Colombia, where she is part of the litigation team and is responsible for the evidence, data analysis and quantitative methods used in the legal strategy.
"I believe that data is not used enough for making good in the world," said Valentina. "I am excited about developing new skills and learning from the HRDAG team how to use data for defending human rights and contributing to making the world more just."
"I'm so pleased that HRDAG will be deepening our partnership with Dejusticia by training Valentina this fall," said HRDAG executive director Megan Price. "Growing the field of quantitatively trained advocates is a key part of our mission and one of the most rewarding aspects of our work. We're gratified to be able to deepen the field with new talent and new voices."
---