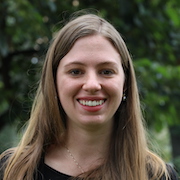 Valentina joined the HRDAG team in the Fall of 2019 as a Visiting Analyst and again in February 2022 as a consultant.
She supports HRDAG's project with the Colombian Truth Commission and the Special Jurisdiction for Peace, or the JEP. She collaborated with Dr. Patrick Ball in the analysis of the underreporting of the killing of human rights defenders in Colombia.
Prior to her position Valentina was the analytics lead at the Truth Commission in Colombia, where she coordinated a team of 28 researchers in quantitative methods and visualization for answering conflict-related questions. She has also been a consultant for the UN Special Rapporteur for Extreme Poverty and Human Rights on the non-take-up of rights,  a researcher at the University of Essex on the relationship between transitional justice and development, and a researcher at the Center for the Study of Law, Justice and Society—Dejusticia— as part of the litigation team providing scientific evidence.
Valentina holds a Master's degree in Economics from the Universidad de los Andes (Bogotá, Colombia), where she earned a BA in Economics and Business Administration.  She is currently pursuing a Master's degree in Data Science at the Universidad de San Andrés (Buenos Aires, Argentina). She has also been a teaching assistant at the Universidad de los Andes for introduction to Colombian economics, introduction to microeconomics, and economics of the institutions and decisions.
In 2021 she was recognized as one of 100 women working in the Global South in the fields of foreign policy, peacebuilding, law, activism, and development by the Gender Security Project for her contributions using quantitative methods for advocating for human rights.
Valentina on LinkedIn. Valentina's 2019 reflection: How To Become A Data Scientist: My Lessons At HRDAG.