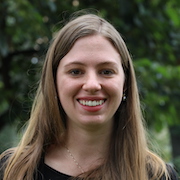 Valentina joined the HRDAG team in the Fall of 2019 as a Visiting Analyst.
Valentina holds a Master's degree in Economics from the Universidad de los Andes, where she earned a BA in Economics and Business Administration.  She is a researcher at the Center for the Study of Law, Justice and Society—Dejusticia—in Bogotá, Colombia, where she is part of the litigation team and is responsible for the evidence, data analysis and quantitative methods used in the legal strategy.
Valentina is interested in a variety of topics that include migration, climate change, right to food, the re-integration of demobilized FARC members into the labor market and society in general, and social leaders. About this last topic, in 2018 she co-authored with Patrick Ball and César Rodríguez a report about social leaders murdered in Colombia between 2016 and 2017.