New and Noteworthy
I look at the beach and then at the table surrounded by nerds, deep in thought and conversation about Dirichlet priors, matching algorithms, and armed conflicts. This peculiar (in the best way) environment catalyzes a moment of reflection: how did I get here?
Four years ago, as a second-year statistics PhD student, I watched "Guatemala: The Secret Files" on PBS Frontline World. I listened to stories of family members (more…)
(This post is co-authored by Patrick Ball and Kristian Lum.)
Today the Bureau of Justice Statistics (BJS) released a report on their effort to document "all deaths that occur during the process of arrest in the United States." The analysis estimates that the Arrest-Related Deaths (ARD) program covers only 34-49% of these deaths. A parallel program by the FBI (the Supplementary Homicide Reports, SHR) is estimated to cover approximately the same proportion of deaths. Even taking into consideration both programs, 28% of all police homicides remain unreported.
In order to estimate the total number of homicides that appear on neither the ARD or SHR databases, the report relies upon a statistical technique that we at HRDAG regularly employ to estimate the number of undocumented conflict-related deaths: multiple systems estimation. The BJS analysts had only two databases available to them (the ARD and the SHR); HRDAG generally uses three or more databases. (more…)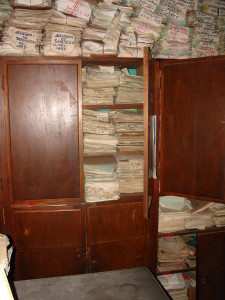 Doing an investigation on the contents of the Archive brought with it three major lessons. The first big lesson was the constant movement (nothing was static), The second great lesson was that everything evolved (the changes were a constant). The third major lesson was to discover how two institutions can work together while geographically far apart.
The constant movement
As there were other processes being carried out at the Archive, everything was in constant movement. In other words, one day the documents were in X location and tomorrow they may be in location Y or dispersed in multiple locations. This made it impossible to know with certainty the time it would take to extract a representative sample for the quantitative analysis. Ultimately, 11 different samples were designed, which made it possible to interrupt or suspend the process at any time without altering the analysis process. (more…)
At the end of 2014 we completed the evaluation of the Kosovo Memory Book database and are pleased to conclude that the database has succeeded in documenting all or nearly all the human losses during conflicts in Kosovo during the period from 1998 to 2000.
With a motto of "Let people remember people," the goal of the Kosovo Memory Book (KMB) is to document all people who were killed or disappeared in connection with the war in Kosovo. The project aimed to document (more…)