New and Noteworthy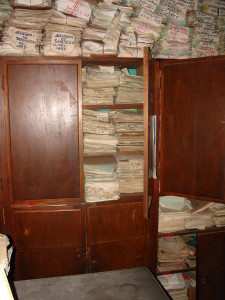 Doing an investigation on the contents of the Archive brought with it three major lessons. The first big lesson was the constant movement (nothing was static), The second great lesson was that everything evolved (the changes were a constant). The third major lesson was to discover how two institutions can work together while geographically far apart.
The constant movement
As there were other processes being carried out at the Archive, everything was in constant movement. In other words, one day the documents were in X location and tomorrow they may be in location Y or dispersed in multiple locations. This made it impossible to know with certainty the time it would take to extract a representative sample for the quantitative analysis. Ultimately, 11 different samples were designed, which made it possible to interrupt or suspend the process at any time without altering the analysis process. (more…)
At the end of 2014 we completed the evaluation of the Kosovo Memory Book database and are pleased to conclude that the database has succeeded in documenting all or nearly all the human losses during conflicts in Kosovo during the period from 1998 to 2000.
With a motto of "Let people remember people," the goal of the Kosovo Memory Book (KMB) is to document all people who were killed or disappeared in connection with the war in Kosovo. The project aimed to document (more…)
UPDATE (21 Dec 2014): Juan Cole is reporting that the Kurdish militia (the peshmerga) have retaken Shingal (also known as Sinjar) mountain where many Yezidi people have been trapped since 3 August 2014. They are now moving to liberate other Yezidi towns south of the mountain. The Yezidi people trapped on the mountain are now free. There is no word yet on the thousands of Yezidi people enslaved by ISIS.
ORIGINAL (19 Nov 2014): Farhad (not his real name) got the call from ISIS on his personal cell phone just after lunch: we have your sister, and we will give her back if you pay us $6000, plus $1500 for the driver.
Carrying little more than his phone, a few clothes, some food, and helping his parents, Farhad and his family left his village in the Shingal municipality of Iraq three months ago when the multinational Islamist extremists of ISIS came. As they fled, his sister had gotten separated and was captured by ISIS.
Razan Zatouneh is an esteemed colleague of ours, and we are one of 57 organizations demanding immediate release for her and the three other human rights defenders still missing.
A year on, no information on Douma Four
The prominent Syrian human rights defenders Razan Zaitouneh, Samira Khalil, Wa'el Hamada and Nazem Hamadi – the Douma Four—remain missing a year after their abduction, 57 organizations said today. The four were abducted in Duma, a city near Damascus under the control of armed opposition groups. They should be released immediately, the groups said.
On 9 December 2013, at about 10:40 pm, a group of armed men stormed into the office of the Violations Documentation Center in Syria (VDC), a Syrian human rights monitoring group, in Duma and abducted Razan Zaitouneh, the head of the center, and her colleagues – Wa'el Hamada, who is also her husband, Samira Khalil and Nazem Hamadi. The four human rights defenders have not been heard of since. (more…)