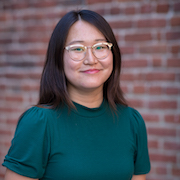 Bing joined HRDAG as a Visiting Data Science Student, for a term lasting from October 2019 to June 2020.
In her role at HRDAG, Bing is providing programmatic, statistical, and analytical support for continuing work on Syrian and Sri Lankan conflict killings, as well as pursuing independent projects to explore extensions of the research and new methods.
Through her work at HRDAG, Bing is completing her practicum for her Master of Science in Data Science program at University of San Francisco, and she will graduate in June 2020. She receives support from the USF Center for Applied Data Ethics.
Bing on LinkedIn. Bing's 2021 reflection: Lessons at HRDAG: Making More Syrian Records Usable.