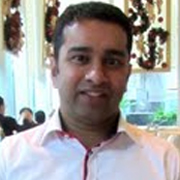 Romesh Silva, PhD, is a demographer and statistical consultant and  has collaborated with HRDAG since 2001. With HRDAG, he has led projects in India, Sri Lanka, Timor-Leste, Chad, and Bangladesh and also contributed to projects in Colombia, Sierra Leone, Guatemala and Liberia.
Romesh has co-authored a number of policy-related reports and scholarly publications on the statistics of large-scale human rights violations in conflict zones. Through his work in Sri Lanka, he devised statistical methods to measure the reliability of data coding methods in human rights documentation projects. These methods have subsequently been used in human rights projects in Colombia, Guatemala, Sierra Leone, Ghana and Timor-Leste. His work developed new ways to analyze and visualize command responsibility from administrative documents recovered from secret police prisons in Chad. His work in Timor-Leste with the country's official truth commission drew multiple data sources and multiple methods and showed that conflict mortality during the Indonesian occupation was driven primarily by famine-related mortality, itself closely connected with conflict-related displacement during the conflict.
Romesh previously served as a Statistical Consultant to the United Nations Development Programme (UNDP) in Laos, where he provided quantitative analysis for the 2001 Lao National Human Development Report and served as a technical adviser to the Lao Ministry of Finance in the upgrade of its international trade statistics system. He holds a doctorate and master's degree in demography from the University of California, Berkeley, a Masters of International Affairs from Columbia University (New York), as well as a bachelor of science degree (Hons, Class 1) in Statistics and a bachelor of arts in German Studies from the University of New South Wales (Sydney, Australia).