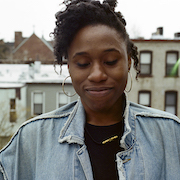 Mimi Onuoha is a Nigerian-American artist and researcher whose work highlights the social relationships and power dynamics behind data collection. Her multimedia practice uses print, code, installation and video to call  attention to the ways in which people are differently abstracted, represented, and missed by digital systems.
Onuoha has been in residence at Eyebeam Center for Art & Technology, Studio XX, Data & Society Research Institute, Columbia University, and the Royal College of Art. Her exhibition and speaking credits include venues such as La Gaitê Lyrique (France), FIBER Festival (Netherlands), Mao Jihong Arts Foundation (China), Le Centre Pompidou (France) and B4BEL4B Gallery (San Francisco). Her writing has appeared in Quartz, Nichons-nous Dans L'Internet, FiveThirtyEight, and K. Verlag. In 2014 she was selected to be in the inaugural class of Fulbright-National Geographic Digital Storytelling Fellows, and in 2018-19 she served as the inaugural Creative-in-Residence at Olin College of  Engineering. Her work can be found at mimionuoha.com.
Mimi has been working with HRDAG since 2019 on a long-term project.