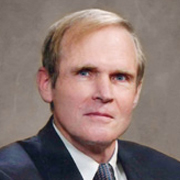 Fritz Scheuren's notable work at NORC includes a landmark project resolving issues with Indian Trust Fund accounts at the U.S. Department of the Interior (DOI) as well as work with the Federal Reserve, particularly the Survey of Consumer Finances (SCF) and at the Census Bureau. Fritz formerly led impact evaluations of MCC-funded programs in Georgia and Lesotho, and formerly he advised MCC on impact evaluations in Armenia and Vanuatu.
Prior to joining NORC, he held several positions as the senior statistical officer for a range of public and private sector organizations, including Ernst & Young, LLP, where he was a Principal; the Statistics of Income Division of the U.S. Internal Revenue Service, where he was the director for more than 11 years; and the Social Security Administration, where he became its chief mathematical statistician. Fritz also serves on the Statistics Faculty at The George Washington University (GWU), where he has been a Visiting Professor of Statistics. At GWU, he created a successful survey sampling certificate program at which he still teaches. Most of his nearly 500 applied and theoretical papers, presentations, monographs, and books are on sampling aspects of data collection primarily in a survey context, with an emphasis on sample design and estimation, process quality, and the handling of missing data. He has written over a half dozen books, the most recent of which is an oral history of the landmark Elouise Cobell Indian Trust case that led to an award of about $500 million to individual Indian account holders.
Fritz served as the 100th President of the American Statistical Association (ASA) and has chaired the ASA Sections on Survey Research Methods and, later, the Social Statistics Section. He has been the Scientific Secretary at the International Association of Survey Statisticians. He is a Fellow of the American Statistical Association and the America Society for the Advancement of Science.
His involvement with HRDAG began about 20 years ago when he worked with many others on estimating the after-battle/war impacts of landmines. He later worked on several HRDAG projects, including Guatemala and Kosovo; he has consulted on the methods of statistical analysis for Perú's Truth and Reconciliation Commission; and he helped HRDAG in East Timor. In recent years, Fritz has advised on the overall direction and approach to the statistical analysis for HRDAG. He is also providing critical peer-review of HRDAG work, including work in Syria in 2012 and 2013. In separate engagements he has worked in Haiti to mount an economic impact survey and later to address ballot-stuffing allegations in the first round of Haitian presidential elections. In 2012, he was the first recipient of the Peace Award, given annually for human rights achievements by the American Statistical Association.
Fritz served on the HRDAG Science Advisory Committee from 2013 to 2021.