New Research on Civilian Deaths and Disappearances in El Salvador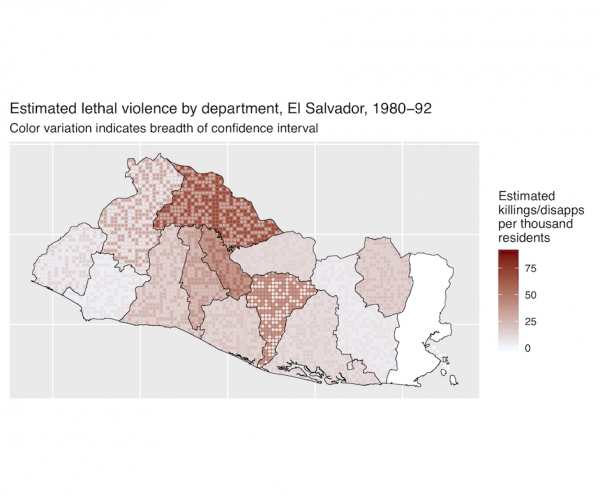 Today, the journal Demographic Research has published HRDAG research regarding the civil war in El Salvador. The article, titled, "Civilian killings and disappearances during civil war in El Salvador (1980–1992)," was authored by HRDAG associate Amelia Hoover Green (currently an associate professor at Drexel University) and HRDAG director of research Patrick Ball. The article explores patterns of civilian death and disappearance over time and across space, and presents the first rigorous estimate of total killings and disappearances in the Salvadoran civil war.  
The Salvadoran civil war ended 27 years ago, in 1992. This rigorous estimate shows that 1-2 percent of the country's population was killed or disappeared during the civil war—that's around 71,000 killings and disappearances. Since the end of the war there's been heated debate about the true death toll: the conservative estimate has been 20,000, while activists insist it is closer to 100,000. This research is especially timely now, as new war-crime trials have begun.
The authors arrived at the estimate by matching and merging four lists of reported civilian killings and disappearances, gathered by multiple organizations—approximately 20,000 unique episodes in all. The authors used log-linear modeling, in a Bayesian framework that accounts for uncertainty in model selection, to reach the new estimate.
"I'm excited about the findings of this article because they offer evidence of how vast a gap there can be between documented deaths and estimated deaths, which is such an important idea for policymakers to keep in mind when monitoring and making decisions about current conflicts," says Patrick.
"El Salvador's post-war amnesty for war crimes ended in 2016, but the push to prosecute alleged perpetrators has hit some political roadblocks, so this is a particularly important moment to publish new evidence about the magnitude of the crimes committed
," says Amelia. (Reuters article on amnesty bill is here.)
Demographic Research is an open access publication, which means that the PDF is available without charge.
Acknowledgments
Support for this project was provided by grants from the Oak Foundation and the Open Society Foundations. (For more information about HRDAG's supporters, please see our Funding page.)
---