Welcoming Our New Data Scientist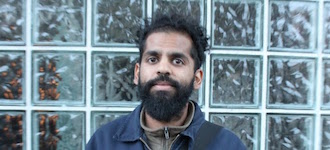 We're thrilled to announce that Tarak Shah has joined our team as our new data scientist. His first official day at HRDAG was Wednesday, October 17.
Tarak will be cleaning, processing and building models from data in order to understand evidence of human rights abuses.
"It's exciting because I think human rights data presents interesting challenges for doing analysis, and it's so important to get it right," says Tarak. "Through this work, I feel like I can contribute to building a more just world while also learning from the best and becoming a better analyst in the process."
Executive director Megan Price is excited to grow the HRDAG team and to increase the organization's capacity to process and analyze data. She hopes that with the addition of Tarak, the organization will be able to take on more projects.
"We were fortunate to have an extremely competitive applicant pool for this position, but once we met Tarak the team quickly reached a unanimous decision," said Megan. "His R code is among some of the best we've seen, and his thoughtfulness and professionalism made it clear he'd immediately be an asset to our team."
---