Skoll World Forum 2018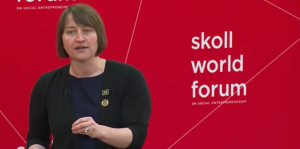 On 11 April, 2018, HRDAG executive director Megan Price spoke about "Illuminating Data's Dark Side" at the University of Oxford.
Other participants in the talk were Doug Galen, Brett Gaylor, Mbwana Alliy and Ramesh Srinivasan. The talk was moderated by Emily Courey Pryor. Video available! Megan's talk begins at 21:30.
ABOUT THE FORUM Each year, the world's most influential social entrepreneurs, key thought leaders, and strategic partners gather at the University of Oxford's Saïd Business School to exchange ideas, solutions, and information.
The Skoll World Forum on Social Entrepreneurship is the premier international platform for advancing entrepreneurial approaches and solutions to the world's most pressing problems. Our mission is to accelerate the impact of the world's leading social entrepreneurs by uniting them with essential partners in a collaborative pursuit of learning, leverage, and large-scale social change.
Illuminating Data's Dark Side: Big data, algorithms, and blockchain have begun to shape our daily lives: from how we get our news, to what we buy, to our likelihood of getting arrested. These invisible forces personalize our experiences and create conveniences. But as this data crunching and mining wield greater power in our lives, we must consider who designs these tools, who benefits from them, and who is left out of the equation altogether. Meet the leaders asking these questions and finding answers in the power of data for the greater good.
---