HRDAG – 25 Years and Counting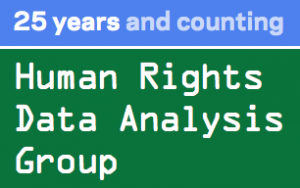 Today is a very special day for all of us at HRDAG. This is, of course, the 68th anniversary of the Universal Declaration of Human Rights—but this day also marks our 25th year of using statistical science to support the advancement of human rights.
It started 25 years ago, in December 1991, in San Salvador, when Patrick Ball was invited to work with the Salvadoran Lutheran Church to design a database to keep track of human rights abuses committed by the military in El Salvador. That work soon migrated to the NGO Human Rights Commission (CDHES). Fueled by thin beer and pupusas, Patrick dove into the deep world of data from human rights testimonies, resurfacing regularly to learn, organize, educate, and teach.
What Patrick and his many partners and colleagues discovered over the last 25 years is the great power of statistical and scientific methods to transform human rights arguments. They are still using statistics to show the world that everybody counts.
Now Patrick is working closely with Megan Price, Kristian Lum and many other HRDAG colleagues and partners around the world to continue development of scientific methods that can change the way we approach human rights debates—and to support partners who need our help in courts of law, in truth-telling endeavors or in policy decisions.
Please join us in celebrating the Universal Declaration of Human Rights, our 25 years of work and progress, and the power of science to advance human rights. This timeline highlights some of the achievements of which we are most proud—and most grateful for the opportunity to have worked on.
Please consider a donation to support our ongoing work using statistical analysis to hold governments accountable for mass violence.
---