Changes at HRDAG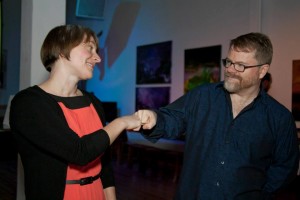 A special announcement from the HRDAG Advisory Board:
Beginning officially on December 1, HRDAG is changing leadership. After nearly three years as Executive Director, Patrick Ball will become the new Director of Research. Megan Price will be the new Executive Director.
Patrick has spent more than 25 years working at the intersection of human rights and statistical science. Over that time, he has finely honed statistical methodology for quantifying mass killings. Now he is excited about the chance to go deeper into research for HRDAG and develop additional approaches for new problems. In his new role, Patrick will focus more on technical coding challenges, as well as on a new project measuring crime in the U.S. to assess policing strategies.
He's very excited about the shift in roles. "Megan will be a terrific Executive Director for the organization," says Patrick. "She's the perfect person to develop HRDAG's vision and take us to the next level."
Megan is already managing the team and has been taking on an ever-growing responsibility for our financial management. "This is a tremendous honor," says Megan. "I look forward to leading HRDAG as we continue to focus on the most challenging quantitative questions in this field."
Sincerely, the HRDAG Advisory Board:
David Banks
Michael Bear Kleinman
Dinah PoKempner
---