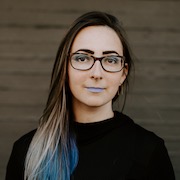 Camille is a 2019 HRDAG Data Science Fellow, starting in July, for a six-month term. While at the organization, she is becoming familiar with HRDAG's internal data-processing practices and taking on work that involves cleaning, formatting, processing and sorting data to make them readable and usable for HRDAG projects. In addition, she will develop explanatory data analysis and predictive modeling skills, and she is applying statistical analysis and machine learning to HRDAG projects, as well as on police misconduct data.
In her last position, Camille was a reporter and researcher at Freedom of the Press Foundation, where she co-ran a data project tracking press freedom violations such as arrests and border stops of journalists. She continues to be a member of the data and digital security collective Lucy Parsons Labs, where she files public records requests on issues of police mis conduct and law enforcement relationships with private companies.
Camille earned a bachelor of science degree from University of California Berkeley, where she studied environmental science and resource management.
You can follow Camille on twitter @camfassett.
Camille on LinkedIn. Camille's 2020 reflection: Learning to Learn: Reflections on My Time at HRDAG.