Welcoming Our 2019 Human Rights Intern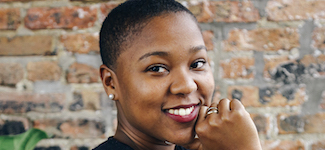 We're happy to announce that Trina Reynolds-Tyler is working with HRDAG this summer as a Human Rights Intern. She will begin next week, and the internship will last for about three months.
As part of the HRDAG team, Trina  is primarily wrangling data to make them usable for a variety of HRDAG projects. The projects she supports at HRDAG include the modeling of the locations of hidden graves in Mexico, the enumeration of people who died in the Sri Lanka civil war, and an estimation model of deaths to aid in El Salvador war crime trials.
In addition to working on her graduate degree at the University of Chicago Harris School of Public Policy, Trina is an activist, community builder and restorative justice facilitator. She is a fellow at the Invisible Institute, the Pearson Institute for the Study and Resolution of Global Conflicts at University of Chicago, and the Pozen Family Center for Human Rights, also at University of Chicago.
"I am a future data scientist who is excited to use statistical models to enact positive change in Black and Brown communities globally, and my mission is to amplify the voices of people who have historically been marginalized," said Trina. "HRDAG seems like the perfect small team that reminds me of a supportive family. I'm really excited to be able to learn the principled data processing methods HRDAG utilizes as a foundation for my future work. "
Director of Research Patrick Ball is excited to have Trina on board as an intern. "We're eager to work with Trina on our projects so she builds a strong technical foundation for her many interests," he said. "Trina's commitment to social change is paired with her interest in technical rigor—and that's exactly how we understand HRDAG's role in the world."
---