Reflections: A Love Letter to HRDAG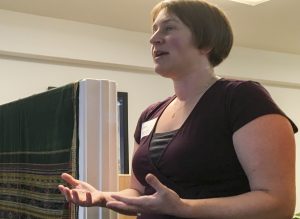 In November 2008 I tumbled out of the airport in San Francisco and climbed into Patrick Ball's VW Golf. Vijaya Tripathi turned around from the front seat and said, "I've got gum, bottled water, and Dramamine. Which would you like?" Over his shoulder, Patrick asked, "If you had to die in a car crash, would you rather fall off a cliff or into the ocean?"
I wondered, "What have I gotten myself into?"
Fortunately, my childhood in hilly West Virginia prepared my stomach for the dark, twisty path to the house overlooking the ocean in Bolinas. I entered the warm kitchen to a chorus of "We're so glad you're here!" "I have so many questions I'm eager to discuss with you…," "I have this idea for a project…," and "Here, fill a plate."
Sometime after a delicious dinner and stories of ill-advised eating adventures around the world, Patrick handed me a brand new Macbook. "Welcome to the team. Scott will get you set up."
I should probably back up. The story of how I found myself in a beach house surrounded by socially conscious nerds began a few years earlier, around the midpoint of my graduate work in Biostatistics at Emory University. I was taking electives for the University's new-ish certificate in human rights, and in one of those classes someone mentioned Patrick Ball and the work he was doing to secure and organize data in various Latin American countries. I went home that night, googled him, and discovered the Human Rights Data Analysis Group. "Wow," I thought, "That is precisely how statistics should be used. Good for them. Maybe one day I can volunteer for them or something."
A couple of years later, I was working on my dissertation and pondering graduation when I learned that HRDAG had just secured a grant that would enable them to create a position for a full-time statistician. It turned out I knew a couple of people who knew Patrick and his team, and they encouraged me to apply. I balked initially; I hadn't set a date for my defense, everything felt very precarious and like it might fall apart at any minute. It didn't seem like the time to make promises to folks looking to fill a real grown-up job. Fortunately, my friends and mentors didn't let me pass up the opportunity so easily. Within a few months I had applied, interviewed, and accepted the position. Thus bringing me to that beach house in Bolinas.
I always feel a little awkward telling this origin story, because I realize just how lucky I am and just how rare it is to land your dream job straight out of graduate school – and even as my role at HRDAG has evolved over the past nine years, this is still my dream job.
That first weekend in Bolinas really was the perfect introduction to the team and the work that we do. In between late nights, lots of coffee, and more than a few brownies, there were in-depth discussions of inter-rater reliability, sampling frames, interview techniques, ssh keys, the Universal Declaration of Human Rights, how to identify perpetrator groups, translating technical terms across a variety of languages, and how pleasant the cool tile of a bathroom floor might feel against your cheek when you're sick (see aforementioned ill-advised eating adventures around the world).
I returned from that weekend retreat reinvigorated to hurry up and finish my damn dissertation already so I could get out to California and get to work. I took "study breaks" to read about the evolution of methods for counting conflict casualties and to sharpen my knowledge of multi-stage sampling. I struck up conversations with random people waiting in lines so I could tell them about this amazing sampling problem the HRDAG team (with advisors from the American Statistical Association) was solving, and that I was going to get to work on.
That amazing sampling problem was the question of how to select documents from the Historic Archive of the National Police in Guatemala. My work on the project began when we were preparing a series of papers for a panel at the Joint Statistics Meeting. None of us knew at the time that we would soon be preparing analyses for expert witness testimony against two police officers charged with the 1984 disappearance of Edgar Fernando García. Those officers were found guilty, and though I wasn't there that day (Patrick and Daniel Guzman presented our analyses), I often look at this photo of Fernando García's daughter and mother embracing following the verdict.
That's why we do this work.
Most days I spend in front of a computer, doing the not-always-exciting-but-necessary work of cleaning data and debugging code (or, more frequently these days, writing emails, squinting at the budget, and pondering our strategic direction). But whenever I need a reminder of why I should write another unit test, or why my data cleaning and processing should be scripted and reproducible, all I need to do is glance at that photo. Our work at HRDAG has always boiled down to Patrick's lesson that "we are morally obligated to do the best work that's technically possible, so that the victim's story is heard and believed.  To do otherwise disrespects the victim's suffering."
That's what drove everyone I met at that beach house in Bolinas, and it's what has driven everyone I've worked with since then.
On this International Human Rights Day, which celebrates the adoption of the Universal Declaration of Human Rights by the United Nations General Assembly, I am affirming our dedication to doing the best work that's technically possible. I'm also reminding myself to take the long view: HRDAG has a quarter century of evidence proving that eventually, if you're diligent and patient, there will be victories. Even when the work feels like it's going slowly, or when the political climate seems to rail against what we do, I have faith in progress and our community's ability to make positive change.
In 1948 Eleanor Roosevelt supported the International Declaration of Human Rights.  Since then, the world has seen the adoption of additional treaties, covenants, and declarations further specifying and expanding these rights. Several international tribunals and special courts, including the International Criminal Court, have been created to address human rights violations and hold perpetrators accountable. I'm privileged to work at an organization that has been instrumental in the convictions of some of the worst dictators of the past 50 years.  Our work on five continents has helped to ensure that hidden violence is brought into the light, and provided some measure of closure to the families of the victims.
Today let's celebrate all that's been accomplished, and prepare for the battles ahead.
---