Evaluation of the Kosovo Memory Book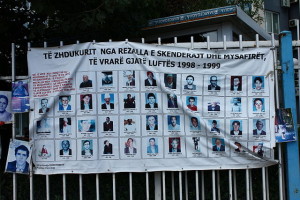 At the end of 2014 we completed the evaluation of the Kosovo Memory Book database and are pleased to conclude that the database has succeeded in documenting all or nearly all the human losses during conflicts in Kosovo during the period from 1998 to 2000.
With a motto of "Let people remember people," the goal of the Kosovo Memory Book (KMB) is to document all people who were killed or disappeared in connection with the war in Kosovo. The project aimed to document all human losses during armed conflict in the territory of the Former Yugoslav Republic (FYR) between 1998 and 2000.
The KMB database evaluation is the fruition of several years of work by HRDAG consultant Jule Krüger and executive director Patrick Ball, done in collaboration with the Humanitarian Law Centre (HLC) in Belgrade, Serbia, and the Humanitarian Law Centre Kosovo (HLC—Kosovo). We began the project in March, 2012, at the request of the HLC.
Patrick Ball said, "The Humanitarian Law Centre and the Humanitarian Law Centre-Kosovo have created a nearly complete list of all the victims who were killed in Kosovo from 1998 to 2000. I congratulate them—this is a monumental accomplishment from years of research."
To evaluate the database, we assessed HLC staff research and field processes, their methodology, and their matching, or de-duplicating, techniques. (See this blogpost by Jule Krüger for more information about matching.) We did our analysis by comparing the KMB database to ten other databases; information about our methodology can be found within our publication.
"We provided an external, independent validation for this project, which it needs because of the complicated ethnic dimension," said Jule. "One can trust this database with regard to the magnitudes, trends, and patterns that are being reported. Our partners have attained their ambitious goal. In terms of capture and representativeness, this is the most complete and reliable database in the world that we know of."
Image: "Kosovo War Memorial, Pristina" by Claudio Poli. Licensed under CC BY-SA 3.0 via Wikimedia Commons.
CC BY-NC-SA including image.
---